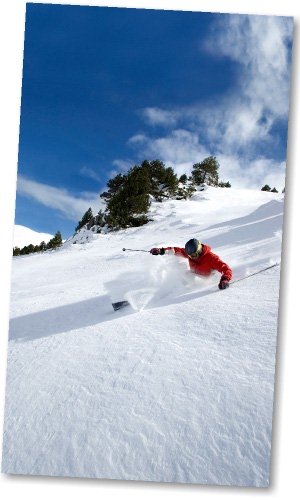 Absolutely Snow is a specialist winter sports tour operator owned and operated by a team of enthusiastic skiers and snowboarders who have years of experience sliding round snow covered mountains throughout Europe and North America.

We have spent a lot of time on our skis in the resorts we offer. In choosing our resorts we looked at snow reliability, the quality and efficiency of the lifts and how the resorts look after the mountain and maintain the pistes, the friendliness of the resorts, access to and from airports, quality and value for money of all our accommodation. We offer a personal and flexible approach to your next winter sports holiday.
Some of the Best Ski Areas in Europe – (Some you may not even heard of!)
We have accommodation in some of Europe's best and largest ski areas;
Check out our Resorts page to see which ski area would suit you!
Flights and Transfers
Flights are available from most UK regional Airports. Airport transfer times are kept to a minimum – all our resorts are within 2 hours of the airport.
Our Accommodation
We have chosen all our accommodation with skiing in mind. All our accommodation is either close to the ski slopes and ski lifts (no ski buses required!) or even better ski in ski out.
Our Hotels
We have carefully chosen hotels for their location – ski in ski out or very close to the ski lifts and slopes, comfort, amenities and value for money. All our hotels are of a 3, 4 and 5 star standard, some are picturesque Alpine Chalet style hotels, others may be larger but with excellent facilities – spas, swimming pools, all our hotels have Wi-Fi and they all offer a warm friendly welcome to all Absolutely Snow guests.
Our Self Catered Apartments and Cabins
We offer 4 star quality spacious apartments and chalets in Trysil & Geilo in Norway, in France we offer ski in ski out apartments in Avoriaz and St Lary. Our apartments are large and well equipped; they range from Studio apartments for a couple up to 4 bedroom apartments for 8 to 10 guests. In Trysil we also offer beautiful traditional log cabins with all amenities - Wi-Fi, sauna, hot tubs, sleeping between 2 and 45 they offer a unique holiday experience in Norway.
Our Service
From the moment you contact us at our office you can be assured of receiving a personal approach to your winter ski holiday.

Our office staff know the resorts and accommodation well – they may not know the name of each lift, but they have a good understanding of each resort we feature, how the resort works, the ski area and the accommodation we offer.

When you book your holiday and pay a deposit we will send your detailed confirmation out immediately by post and also by email. If you have any special requirements and you notify us of them we will make sure that these are shown on the confirmation and more importantly communicated to both our resort staff and resort suppliers.

When you pay your final balance we will send you a detailed resort information pack.

Our service continues out in resort. If ever you have any queries while on holiday we are just a phone call away. The only thing we can't control is the weather! But in terms of snow we have chosen resorts that have some of the best snow records and snow making facilities in Europe!